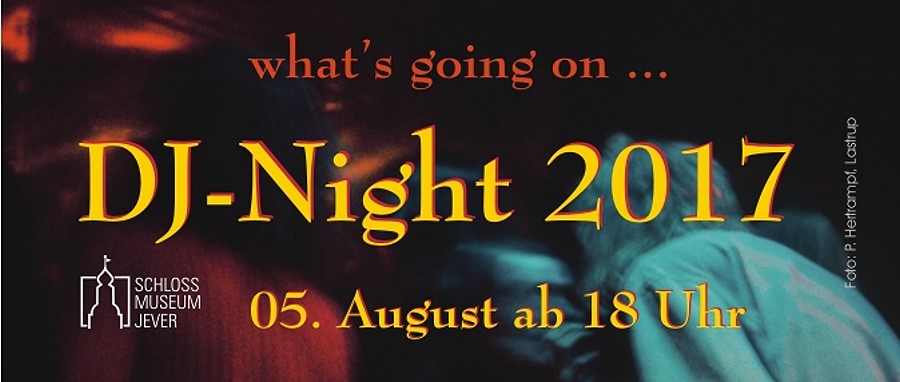 What's going on?! Anlässlich des 10-jährigen Jubiläums der Ausstellung "Break on through to the other side – Tanzschuppen, Musikclubs und Diskotheken im Weser-Ems-Gebiet in den 1960er, 70er und 80er Jahren" legten am 5. August 2017 die DJs der einstigen Diskos noch einmal auf – eine einzigartige Gelegenheit, Freunde und Bekannte zu treffen, ausgewählte Musik der 60er, 70er und 80er Jahre zu genießen und zu tanzen. Außerdem wurde auch wieder der sanierte Innenhof genutzt, so dass erneut zwei Bühnen bespielt werden konnten – also noch mehr gute Musik und noch mehr Tanz.
Zugesagt hatten die DJs:
Rio de Luca (Apollo, Old Crow, Whisky à Gogo), Emil Penning (Red Baloon, Tiffany), Sven Rogall (Meta's Musikschuppen), Rainer Urbschat (Why Not, Renaissance), Otto Sell (Etzhorner Krug, Ede Wolf), Rolf Joschko (Charts, Novo, Rocktheater), Wolfgang Milewski (Newtimer, Palazzo) und Gisbert Wegener (Scala).
Einlass ab 18 Uhr, Eintritt 12,- €. Der Besuch der Ausstellung an diesem und am nächsten Tag war im Eintrittspreis inbegriffen.

Im Zusammenhang mit dem Jubiläum bot das Schlossmuseum Jever zwei weitere Veranstaltungen an:
A 60's Drummer – 13.04.2017, 20:00 Uhr ↑ || (6,- €) ↑
Kiffen und Kriminalität – 04.08.2017, 20:00 Uhr ↑ || (6,- €) ↑
Beiträge zur DJ-Night 2017